Who Has the Best Live Transfer Insurance Leads Online?
100% Contact Rate Guarantee • No Contracts • No Prepayments
Top Producers Close More Sales with Rigorously Screened Live Transfer Insurance Leads from Insurance Leads. Connect with high-intent consumers now.
Enjoy No Pre-Payments, Contracts, or Upfront Deposits and Access to High-Intent Live Transfers with 100% Contact Rate, Guaranteed.
Get New Policyholders Now
Or… Take Competing Agents Out of the Picture Entirely…
Generate Your Own Leads
How Many Could You Close Today?
High-Intent Live Transfer Insurance Lead Generation Tailored Exclusively for Today's Insurance Agents"
Custom Targeting Instant Delivery No Long-Term Commitments Search-Generated Leads
---
Live Transfer Insurance Leads Looking to Close
In today's high tech, and alas ultra competitive, insurance marketing arena, today's most successful insurance agents take advantage of today's proven cutting-edge strategies for building their businesses. Thanks to today's tech, chief among these are live transfer insurance leads. These leads are rigorously screened and filtered for intent to speak with an actual insurance agent, and as such the agent can be reasonably assured that they are speaking with a prospect that actually wants to discuss the purchase of the insurance products and services that the insurance agent specializes in.
A high respected and trusted leader in the insurance lead generation space, Insurance Leads takes all the guesswork out of this type of insurance marketing. This allows you to focus on what you do best, which is close the sale and service your existing clients without wasting your precious time and resources…
Live Transfer Insurance Leads that Builds Your Agency, Not Shrivel It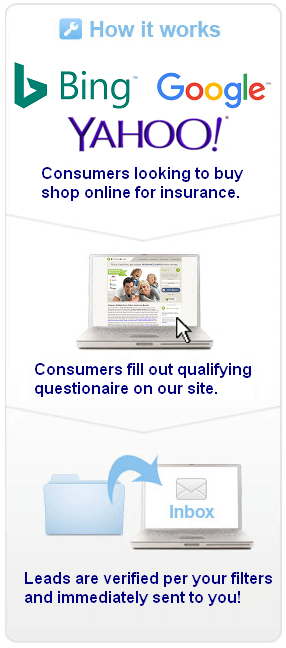 Cold calling, or unwanted phone calls in the majority of cases today, is an old style prospecting approach that quite frankly annoys and angers sales prospects, insurance or otherwise.
Insurance agents who are focusing on old-style marketing techniques do not have the odds on their side these days. When proven, profitable lead generation systems are not in place, both new and veteran insurance agents are left with little choice but to, and we're sorry to be blunt, throw away their hard-earned money on "I pray something hits!" tactics like:
• Cold Calling that Puts You on the Business End of the FTC National Do Not Call Registry
• Direct Mailings that No Longer Work Like they Did Years Ago
• Fax Blasts that are Cast in the Same Light as SPAM
• Phone Dialing Systems that Annoy Potential Prospects
• Post Cards that Will Most Likely End up in the Trash
• Time Consuming, Spendy Seminars
While these approaches can work for those few rare agents who can sell bags of ice cubes to people who live in the arctic, they do not put the majority of regular everyday agents in front of the actual prospects who are looking to commit to another or new insurance policy. A major reason to use live transfer insurance lead generation services such as ours is that we specialize in providing the consistent flow of fresh, ready-to-close prospects, who are looking to speak with you about how you could meet their insurance needs, that the above marketing tactics cannot.
These are prospects who actually want to visit with you about your products and services; thus increasing your earnings by a substantial amount and providing you a healthy, positive ROI without you having to go through countless frustrating door and phone slams in the face.
Both independent and career company agents alike can benefit tremendously from insurance lead generation services that have the ability to connect you directly to the prospect at the right time.
Here's why:
Targeted

insurance leads

grant you access to high quality prospects
These ready-to-close prospects are very likely to turn into sales
These sales translate into income streams
These income streams boost profits and your ability to compete effectively
Effective insurance lead generation gets the insurance agent going in the right direction by pre-qualifying prospects and in turn providing those pre-qualified prospects to agents per the filters they've selected. Prospects such as these are the most desirable because they are truly interested parties in what the agent has to sell.
Instead of wasting precious time with ineffective, annoying cold calling – yes today's prospects HATE cold calls! – or direct mail surges that 9 times out of 10 end up in the circular file, insurance agents are connected via the service to consumers who are already searching for what's being offered.
Rigorously screened, ready-to-close, insurance leads can positively affect the numbers game due to the quantity of prospects that also happen be quality prospects. Agents know full well that the more prospects they interact with, the greater their opportunities are for closing those potential sales.
Thusly, the odds for closing the prospects are increased even further when these individuals are proactively seeking the products or services that the agent has to offer.
Targeted Prospects Potentially Means Higher Income
When you diversify your insurance advertising budget to include live transfer insurance lead generation, you can literally increase your opportunity to close your prospects due to the highly targeted, warmed up nature of your insurance lead generated prospects. While the use of lead services increase the probability that sales will occur as there is no cold calling involved, of course you will still have to speak with your prospects and close them. Since this type of prospect may be actively shopping for insurance for any number of reasons, you must demonstrate that you're very knowledgeable in regards to the insurance type they're searching for, and you must also deploy the appropriate interpersonal and sales skills when interacting with them.
By channeling your efforts in to prospects that are pre-qualified, this will limit the waste of time normally associated with chasing the wrong prospects. Let's face facts, when you pursue the wrong prospects, not only does this open you up to the discouragement of "I'm sorry, not interested! Leave me alone!", but also to the frustration, loss of time, and wasted advertising budgets that none of us can afford. While there is no magic button that cranks out perfect sales, insurance lead services such as ours maximizes your opportunity to find them. Please understand that more than 90% of insurance agents who pursue the wrong prospects for whatever reason are out of business within 4 or 5 years. Everyday insurance agents earn less than $40,000 a year. Escalating frustration, including time and money wasted are major contributors to this sad fact. So if 90% of your colleagues threw in the towel, why is the 10% crowd still going strong and achieving their personal financial goals?
The 10% Crowd?
The 10% percent crowd, those who are thriving and not just surviving, aren't wasting time and money on the wrong prospects. They've diversified their insurance advertising budget to include insurance lead generation, live transfer or otherwise. This insurance lead generation advantage provides them with plenty of opportunities to interact with prospects who are warmed up to buy what they are promoting. For these agents, their businesses are not a numbers game. They are channeling their efforts and resources where they stand the best opportunity to have the most impact: interaction with a pre-qualified, interested market. This enables them to convert those interested prospects into closed sales that actually produce real income and a positive ROI. Agents with higher incomes have a competitive edge.
Career company agents can improve their position and leverage in a company. This opens the door for promotions within their company.
On the independent agent side, more money coming in has the potential to increase personal independence. They are in absolute control of their hours and their business, where using these advantages wisely leads to profit increases.
Career company or independent, it doesn't matter what insurance type the insurance agent specializes in, insurance lead generation will afford them with the best opportunities to maximize their ROI, along with their time. Insurance agents who are not limited to old school marketing techniques that have lost their punch over the years can still play with numbers. This time, however, the numbers will tend to favor them more.
Lastly, getting the right insurance leads is a must for building a successful insurance agency and the best, proven way to get your hands on these prospects is to join a service that does its job as well as you do. With that said…
Why Partner with InsuranceLeads?
High Quality. InsuranceLeads specializes in online marketing to generate leads and offers one of the lowest shared lead caps in the industry and never reuses old leads. Reach consumers ready to buy insurance.

No Contracts or Upfront Deposits. InsuranceLeads knows agents care about results, so it's important to InsuranceLeads to continuously earn their business with a quality product. Pay only for the leads you receive.

Advanced Filtering. InsuranceLeads offers advanced targeting through filters, so you are sent the most-relevant leads. Receive only insurance leads that make sense for your business.
To check out InsuranceLeads' latest programs that could help you improve your closing rates and ROI, click here to start getting rigorously screened insurance prospects, not tire kickers and other precious resource-draining duds.
To speak with a friendly knowledgeable Insurance Marketing Specialist, please call (855) 209-8938, anytime during normal business hours, Monday – Friday, 8 AM to 5:30 PM CST, to see for yourself how you can get started closing more prospects.
Forget the Tire Kickers, Get the Right Insurance Leads Today
Whether you are an independent agent or part of a larger company, you can rely on lead generation services to help you locate and invest in the best customers for your particular insurance offerings. Say good bye to cold calls and say hello to increased sales and conversations with customers that actually want to talk with you today. You will appreciate the difference in your calls right away.
We hope you enjoy your rigorously screened live transfer insurance sales leads and happy closing.
Best Wishes,
The Warm Transfer Insurance Leads Team
P.S. Sign up now and enjoy top quality guaranteed contact live transfer insurance leads with no pre-payments, contracts, or upfront deposits. Do it today before you leave any more money on the table than you absolutely have to…
How InsuranceLeads' Live Connect Concierge Inbound Phone Insurance Leads Work

InsuranceLeads Finds Interested Insurance Prospects
InsuranceLeads' Customer Acquisition Marketing (CAM) technology platform attracts, engages with and converts consumers into paying policyholders for their member insurance agents.
InsuranceLeads Verifies the Prospect's Interest
InsuranceLeads' call center agents engage these consumers in live voice conversations, complete the verification and qualification of the consumer by asking a series of highly targeted questions that verify the identity, profile, and purchase intent of your prospects.
InsuranceLeads Live Transfers the Prospect
Once the consumer has confirmed their desire to speak with an Agent to get a quote right now, InsuranceLeads' call center agent performs the live transfer of the consumer to you in real-time.

Screened Inbound Insurance Calls
InsuranceLeads' guarantees a 100% contact rate so that you can focus on what you do best, sell more policies. To learn more, speak with a Specialist at (855) 209-8938 today so you can get started closing more prospects with rigorously screened live transfer insurance leads.
So, why go with Insurance Leads? Here's what your fellow agents have to say about them…
What Agents are Saying about InsuranceLeads
"Every dollar counts! I love the live transfer calls- our closing ratio is AWESOME with your leads!"
John
State Farm Agent in MD
---
"Your leads are working out great!! I am writing about 1 out of every 2 leads I get from you guys, if not every single lead! Thanks so much!"
Nate Schmidt,
Farmers Agent,
Phoenix, AZ
---
"Your company has been fantastic. We have been purchasing leads from Insuranceleads.com for the past couple of years and our monthly premium is averaging approximately 600k/a month just off your website alone!
Additionally, our representative, Luis Amezcua has been great. He is very attentive and has always catered to our needs. We have already referred a few agents that are now using your website and their premium has increased substantially. We plan on bringing on anywhere from 20-30 more agents that will be using Insuranceleads.com here within the next couple of months. Thank you for the business!! Keep the quality leads coming!!"
Wayne Miller,
Independent Sales Manager,
Indianapolis, IN
---
"The Health insurance leads are top notch. I prefer to have those over any I've had in the past who sell them to more brokers than they represent. Very few credits needed."
Mike Campbell,
Independent Insurance Professional,
Pensacola, FL
---
"I have been receiving leads for a little over a week and at this point I am very satisfied. As you know it usually takes several weeks to turn leads into sales. I have more leads working and genuine interest than any other internet leads I have ever worked. I have not had one complain that they have been receiving a lot of calls like I usually see with internet leads. If these work as well as I expect I will be really happy. Thanks for all you do!"
Michael Cannon,
Blue Cross/Blue Shield Agent,
Lubbock, TX
---
"I've been buying leads from you for over a year, I had a couple of the other lead generating companies as well. By far I have had the MOST success converting your leads into policies. In 2 weeks, I got 28 leads, and converted 12, that's almost a 43% closing ratio. And out of those, I might get another 1-3 policies. I'm a happy camper!!!!! Oh and by the way…I turned off the other companies and now I'm all yours. If you ever need to give an agent a reference of who's doing leads through you guys, have them call me, I'm a real agent, and this works guaranteed. The leads work, call me and I'll tell you how to make it work for you."
John Gittisarn,
Farmer's Insurance,
Los Angeles, CA
Your Warm Transfer Insurance Leads Advantage
Leading source of high-intent live transfer leads and inbound calls

A constantly evolving proprietary smart customer acquisition solution built on solid experience

A cutting-edge service guided by feedback from thousands of insurance agents

An intuitive and easy-to-use Agent Gateway with self-service capabilities for everyday use

State-of-the-Art Account Management

A highly rated, trusted provider within the insurance and financial community, recently ranked #1 for conversion rate by the Leads360 Lead Industry Awards

Tools and resources to keep learning as an Agent and business owner
Speak with an Insurance Marketing Specialist Today…
To learn more about all of the exciting opportunities available to you and your agency from the Insurance Leads family of industry leading insurance marketing brands and what they could mean for your agency's growth in the months and years to come, give them a call and a friendly, knowledgeable Insurance Marketing Specialist will be more than happy to give you the whole scoop…
Call Toll-Free (855) 209-8938
Monday to Friday, 8 AM to 5:30 PM CST